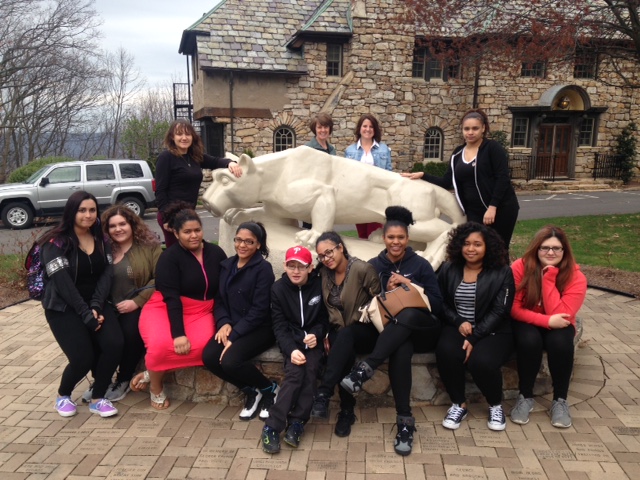 Front Row: Leticia Valerio, Taylor Dillon, Vaneliza Mejia, Jonyshin Matos, Nathan Pliska, Arlenis Ferreras, Endrianna Rodriguez, Josephie Dotel, Paige Minnick. Back Row: Jocelyn Shaffer, Deb Dougherty, Michelle Chyko – Y.E.S. Instructor, and Cynthia Caleron
Penn State Hazleton Campus recently hosted their first YES (Your Employability Skills) tour. YES students from the Hazleton Area Career Center toured the campus to learn more about careers in higher education, as well as the educational opportunities that are available in their own backyard.
The YES Northeast Certificate Program, which is administered by the Northeast PA Manufacturers & Employers Council, is a 120-hour, 1-credit, year-round elective course that addresses the shortfall of basic skills that employers say are lacking in many job applicants. The course addresses 38 modules in all, including communication, team building, interview/resume/cover letter writing, job applications, personal finance, conflict resolution, time management, and career exploration. The curriculum was developed based upon today's business and industry needs, with many of the subjects being in-demand trainings that are being offered to the incumbent workforce. For more information on the YES Program, or other Council offerings, call their office at 570-622-0940 or visit their website at www.nepamaec.com.
About Penn State Hazleton Campus
Conveniently located off Interstates 80 and 81 in northeastern Pennsylvania, Penn State Hazleton consists of a 125-acre scenic campus overlooking the Conyngham Valley. With more than 900 traditional students and adult learners, Penn State Hazleton offers the first two years of most of the University's 160 bachelor's degree programs along with a range of bachelor's degree and associate degree programs. Penn State Hazleton combines the resources of an internationally recognized university with caring, top-notch faculty — all designed to encourage student success. Academic opportunities, co-curricular activities and on-campus housing offer students a great environment in which to learn and earn a valuable Penn State degree. For more information on Penn State Hazleton, contact the admissions office at 570-450-3142 or visit hazleton.psu.edu.
***