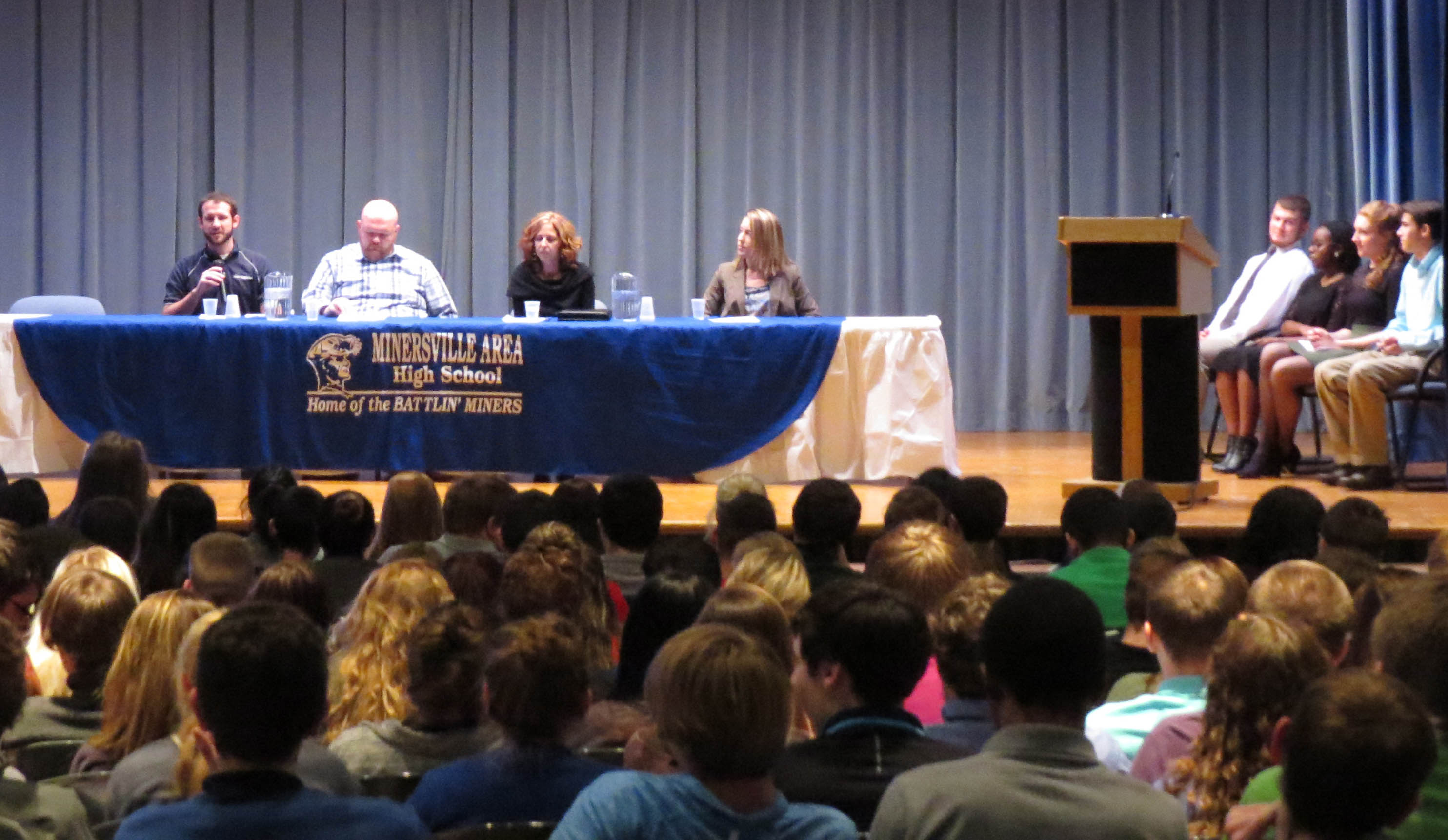 Planning a career path can often times be a daunting task for any teenager. It certainly helps when you're surrounded by a business community and a school district that care about your future. Such is the case at Minersville Area High School, where a career panel was recently organized by school administrators and the Northeast PA Manufacturers and Employers Council (NEPA MAEC).
Kerri Green of the Lehigh Valley Health Network, James Shaffer Jr. & TJ Masteller of Lowes Retail Distribution Center, and Michele Atkinson of Sapa were on hand to field various employment related questions from the student body.
Minersville students Reiley Lonergan, Memunatu Dumaste, Aaron Snyder, and Matthew Horan represented the student body, delivering questions to the panel that ranged from educational requirements to how companies view employees with body art and tattoos.
It was a learning experience for everyone involved including the many students, teachers and administrators in attendance, as well as the business professionals themselves. As a result of the questions asked by the student body, they learned exactly what issues are weighing on the minds of their future workforce.
It's these types of events that bring the worlds of education and business together that are crucial to spreading career awareness to tomorrow's workforce. Through interaction with the business community, students learn how to take the academic knowledge and technical skills that they are receiving in the classroom environment and apply it to the workplace.
This sometimes overlooked step in the planning process can give students a leg up over their peers, as they have a firmer grasp on what it takes to be career ready. "School staff and parents provide advice to the students on what is needed to be 'career ready', said Minersville Area Principal James Grabusky. "It was nice to see the students hear directly from local employers about what exactly they're looking for in an employee. Many of our students believe they must move far away to access career opportunities, so it was great to hear them talking about the opportunities in our own community."
Since the Lehigh Valley Health Network, Lowes, and Sapa all rank among the top five of employers in Schuylkill County, the local employer community was very well represented. All three companies are very active in the community and have a keen awareness of why reaching out to their future workforce is so important.
"As a community minded company, we very much look forward to and enjoy participating in these types of events," said Shaffer. "It provides us with a wonderful opportunity to share our values and what we have to offer here at Lowe's RDC 961. More importantly, however, it's a chance for high school students to gain some insight into businesses' expectations, in hopes to better prepare them for entry into the workforce."
Lehigh Valley Health Network, Lowes, and Sapa are all highly involved in the community, eagerly participating in career based events. All three are very active with the Council's other programming, especially the YES (Your Employability Skills) Northeast Certificate Program and the Schuylkill County Career Fair. They are a shining example of how companies should approach the youth of today.
Schuylkill County is fortunate enough to have many of these likeminded companies. When they're paired with school districts like Minersville Area, who aggressively pursue these types of opportunities for our youth, it creates a perfect learning environment that will greatly increase the chances that students will not only succeed, but flourish.
This focus on employability skills and career readiness has been an idea that Minersville has been promoting for quite some time now. During the 2007-2008 school year, they were one of the first schools in the county to sign on to offer YES.
YES is a 120-hour, 1-credit, year-round elective course that addresses the shortfall of basic skills that employers say are lacking in many job applicants. The course, which was developed by both business and education, includes topics such as communication, team building, interviews, resume writing, completing a job application, personal finance, conflict resolution, and time management.
In addition to the knowledge that students gain from the YES curriculum, additional resources are available at their teacher's disposal including guest speaking opportunities & interview simulations from business professionals, a video library, and facility tours. Minersville has taken full advantage of these tours over the years, touring businesses such as Ashland Technologies, Big Lots, Northeast Prestressed Products, Penn State Schuylkill, Prysmian Group, Schaeffer's Harley-Davidson, the Schuylkill County Courthouse, T-102, Tyson Foods, Universal Forest Products, Walmart Distribution Center, and Wegmans, as well as all three employers that were represented on the career panel.
With career awareness events like this panel and programs like YES, Minersville students are undoubtedly better equipped to make those daunting career pathway decisions seem just a little bit easier.