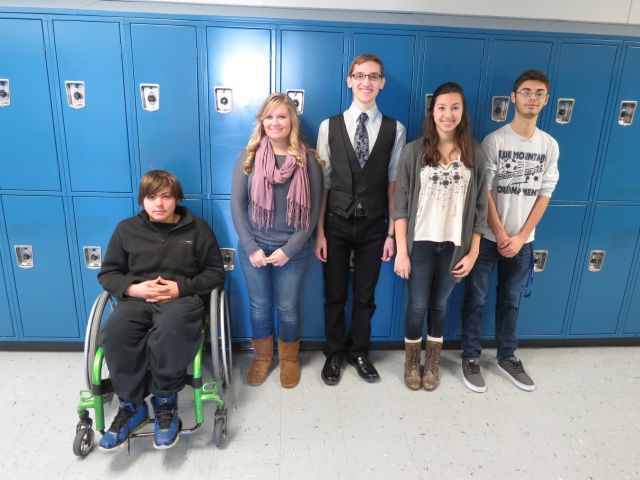 Schuylkill Haven's YES class recently completed a hands-on project in conjunction with the entrepreneurship module. Students banded together to form a "business," that consisted of no more than six per team. They had to select a charity, set a financial goal of no less than $25 per team member, fill out a student activity permission for fund raiser form, and complete a business plan form. Three of the items on the business plan form included a statement about the charity, why it was selected, and a list of ways they plan on promoting it (via posters, announcements, video announcements, etc…). The project planning dates were November 3-7. During this time the students needed to get their choice of charity approved and the fundraiser form needed to be submitted for approval by the principal. The kick off for raising funds began on November 10 and ran until November 26. Students assigned one person in each group to be the treasurer and this individual had to drop off the monies collected at the end of each day. Students kept track of a profit and loss statement, although no expenses were allowed to be deducted.
The winning team, comprised of Tyler Schaeffer, Eden Boyer, Michael Potts, Genie Tucci, Justin Gerber and Caitlyn Brossman, raised $300 in total. They chose to donate the money to the American Cancer Society. A total of $1,200 was
raised by all teams who decided to donate their money to the Wounded Warriors Project, Petsmart Charities, American Heart Association, Juvenile Diabetes Research, Hillside SPCA and Big Brothers Big Sisters.
To add to this wonderful project, which was prepared by Schuylkill Haven's YES teacher Terri Keyworth, students visited Schaeffer's Harley Davidson and heard from local author and business owner, Rudy Gherghel. On their trip to Schaeffer's, students were able to tour all departments, learning about sales, marketing, maintenance, customer service, and the entrepreneurial spirit needed by the Schaeffer family to grow the business into what it is today. Gherghel hammered home that message in his talk with the students, explaining to them his own personal story of how he escaped Romania as a young boy and came to the United States in order to live out the American dream. The project is one example of how powerful the YES Northeast Program can be to students, uniting classroom education with knowledge from the business community.